Texas
You Have to See These Incredible Sights in the Lone Star State
The 10 most beautiful natural wonders in Texas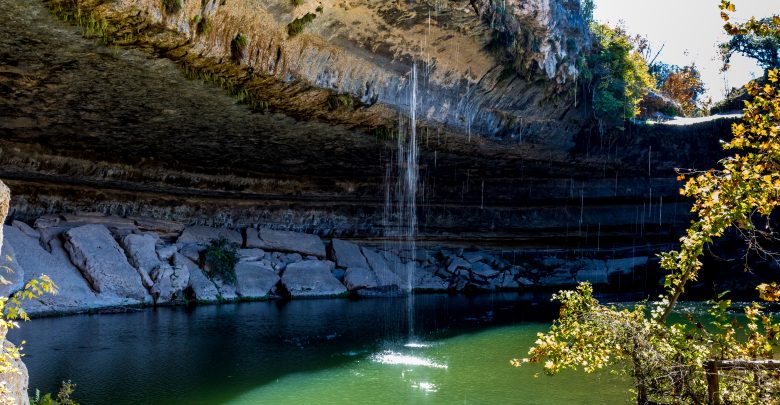 Texas is known as the Lone Star State. It is known for cowboys, wide open spaces, and bluebonnets. Often, though, it is overshadowed by the more obviously attractive states like California, Colorado, and New York – to name a few. Perhaps it is because Texas is so large that finding a beautiful spot to vacation and enjoy nature seems intimidating. And it is large. We want you to see that a trip focused on natural beauty is possible in Texas, so we have compiled the ten most beautiful natural wonders in Texas.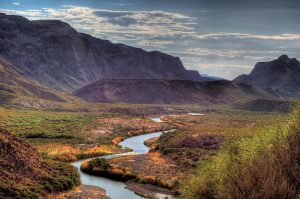 1. Big Bend
Located in the southwest tip of Texas, bordering and running into Mexico, Big Bend National Park is 801,163 acres of river canyons, desert, and mountains. Potential activities include camping, scenic drives, backpacking, horseback riding, river trips, and even the option to stay in the Chisos Mountains Lodge if you'd rather sleep in a bed after a long day enjoying the outdoors. A prominent feature of Big Bend is the Santa Elena Canyon. Dip your toes into a refreshing stream of water surrounded by towering canyon walls. You can kayak, canoe, or raft downstream. You can also camp alongside the canyon. Just an hour and a half north, you'll find the small and very unique town of Marfa, Texas.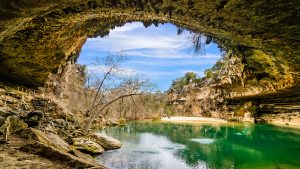 2. Hamilton Pool
The Hamilton Pool Preserve is a 50-minute drive west from Austin, Texas. Crisp, blue water courses over a limestone rock formation into a naturally occurring pool below. The Hamilton Creek is responsible for the waterfall. Because of its beauty, the spot has conjured up quite a lot of popularity. So much so that you have to make a reservation ahead of time if you want to swim there. You can also choose to wait in a "non-guaranteed entry" line that will be at least a 45-minute wait, but it seems like the wiser option would be to reserve your spot.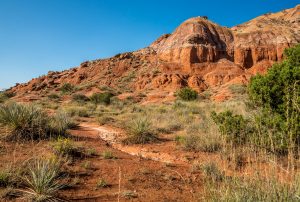 3. Palo Duro Canyon
The only canyon larger than this one in the entire US is the Grand Canyon. This lesser-known spot is characterized by the same beautiful red stone, red plateaus, and red dirt that makes up the Grand Canyon, but it is far less visited. It is 32 miles south of Amarillo and is a perfect spot for anyone who enjoys the outdoors. Probably best enjoyed during the late fall or early spring (to avoid overly hot temperatures), you can go camping, RV camping, hiking, biking, or take a leisurely stroll to a picnic area.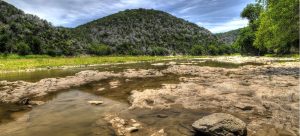 4. Gorman Falls
Colorado Bend State Park is one of the most popular state parks in Texas because of its natural beauty. It's located 100 miles northwest of Austin, and the terrain is quite different from the parks we have discussed so far. Gorman Falls, located within Colorado Bend, is a great example of how environment differs across Texas. These waterfalls are reminiscent of the Pacific Northwest. Because they are heavily shaded, the falls and its surrounding rocks and trees have developed a layer of moss. Everything within sight is vividly green. You can explore these falls via a guided hike, or via a solo hike. You can boat, kayak, or swim at the nearby lake.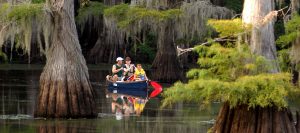 5. Caddo Lake
60 miles south of Texarkana is Caddo Lake. Because this is in east Texas, closing in on Louisiana, this area is known as Texas swamplands. The lake looks is made up of bayous and waterways, and the cypress trees within and around it are covered in Spanish moss. You can explore the lake via kayak or canoe.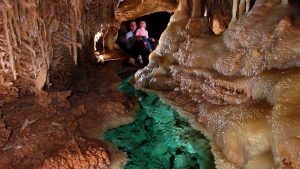 6. Caverns of Sonora
These caves are a mile deep into the ground and are filled with acres and acres of limestone and even some sparkling gems. The Caverns of Sonora are 190 miles northwest of San Antonio. You can hike or camp within the caves, which is bound to be one of the more unique experiences you'll have in this lifetime. These naturally occurring formations are indisputably one of the most beautiful parts of Texas because they are so unique in appearance compared to the rest of Texas's landscape.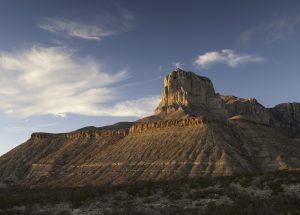 7. El Capitan
Drive 113 miles east of El Paso and you will find El Capitan of the Guadalupe Mountains National Park. Not quite as tall but not quite different in shape from the El Capitan of Yosemite, this rock configuration is incredibly majestic. This peak sits on the Texas-New Mexico border. Though it is dry and barren most of the year, it tends to get coated in white snow and clouds during the winter months. It is the eighth highest peak in Texas and hiking to the top will reward you with a beautiful view of the desert.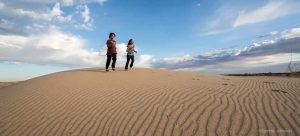 8. Monahans Sandhills
Quite a change of pace from south-of-Marfa Big Bend National Park, this north-of-Marfa location is completely made up of sand dunes. Toboggans are for rent at the Sandhills, or you can bring a board of your own. Reach the top of any of the dunes and enjoy a smooth ride down the bottom – almost like skiing down a ski slope. On top of enjoying the dunes, you can also ride a horse within their 800-acre equestrian area.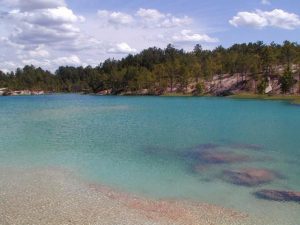 9. Blue Lagoon
Made up of two naturally occurring pools, the Blue Lagoon is located five miles north of Huntsville, Texas. This watering hole claims itself as the clearest and bluest in all of Texas. People actually go scuba diving here, which is a rarity in Texas waters. The lagoon is surrounded by pine trees and limestone rock, making it a desirable destination for any visitor. It costs $20 to enter the swimming area, and the area is capped at a certain number of swimmers each day.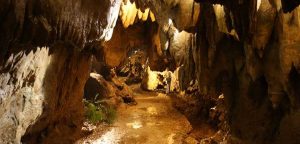 10. Cascade Caverns
Three miles south of Boerne, Texas are the Cascade Caverns. You have probably guessed by the end of this list that limestone is a commonly occurring stone in Texas, and you have guessed correctly. This cave is, again, made of limestone. It formed during the Lower Cretaceous period, which began approximately 145.5 million years ago, shortly after dinosaurs went extinct. For a long time, it was Texas's only cavern with an interior waterfall. You can visit the cavern on a guided tour which runs year-round.