Texas
Thrill List: Best Roller Coasters in the Lone Star State
Buckle up for the fastest ups, downs and turns in Texas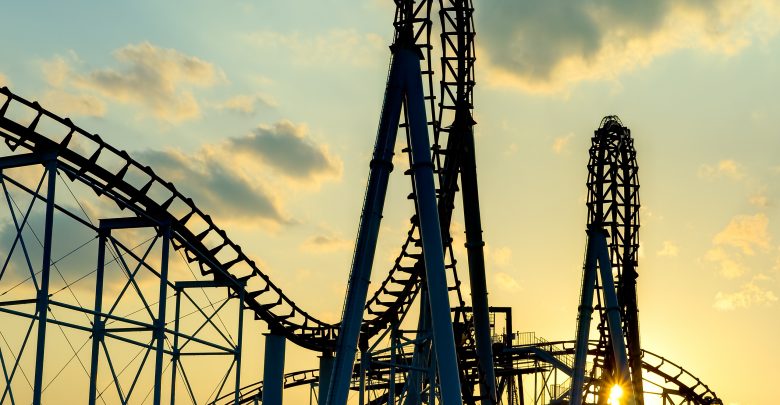 Most people who plan a Texas vacation think of pristine beaches, the Alamo, delicious Tex-Mex and barbecue cuisine, and cowboy boots, however there is another amazing way to enjoy time spent in the Lone Star State. Texas is home to its fair share of amusement parks, some of which feature roller coasters that are so daring and high-speed that they are true thrilling experiences.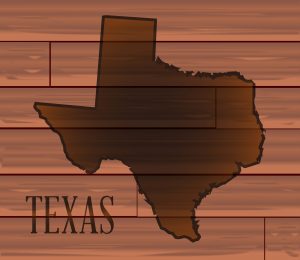 Those who travel to Texas to enjoy thrill rides, and in particular roller coasters, are sure to love the many options available to them that feature different materials, speeds, and experiences. Some roller coasters on this list are innovative in their unique tracks whereas others reach top speeds that cannot be found elsewhere in Texas. No matter what particular experience each roller coaster on the list provides, those who enjoy a ride are sure to be totally thrilled! Here are the best roller coasters in the Lone Star State that thrill-seekers simply must enjoy!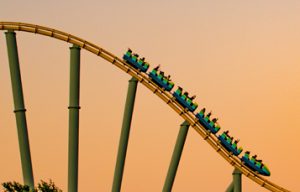 Steel Eel Hypercoaster
SeaWorld San Antonio
Those who visit San Antonio can enjoy historical sites such as the Alamo, entertainment destinations like the Riverwalk, and locations that provide fun for the whole family like SeaWorld San Antonio. While there are plenty of rides for guests of all ages and animal interactions, those looking to enjoy a thrilling experience need to ride on the Steel Eel Hypercoaster. Featuring top speeds of sixty-five miles per hour, the Steel Eel Hypercoaster offers several massive camel style hills designed to make guests experience the feeling of weightlessness as they lift out of their seats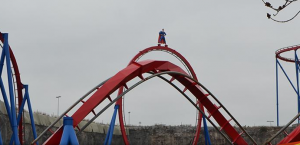 Superman: Krypton Coaster
Six Flags Fiesta
Also found in San Antonio is Six Flags Fiesta which is home to classic attractions for the whole family as well as many thrilling roller coasters. Many Six Flags theme parks feature attractions that are related to DC Comics, including the Superman: Krypton Coaster which is located in the Spassbury section of the park. The coaster is bright red and blue like Superman and features six inversions, the second tallest 360 vertical loop in the world, and speeds of over sixty miles per hour!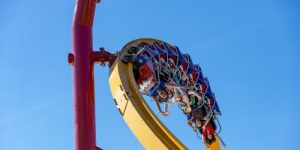 Wonder Woman Golden Lasso Coaster
Six Flags Fiesta
Six Flags Fiesta received a brand new roller coaster for summer 2018 that brings another famous DC Comics character to life. The Wonder Woman Golden Lasso Coaster is located in the Rockville area of the park and is the first roller coaster to feature a single rail. Featuring three inversions and speeds upwards of fifty miles per hour, the roller coaster definitely brings big thrills with an equally smooth ride thanks to the innovative new system.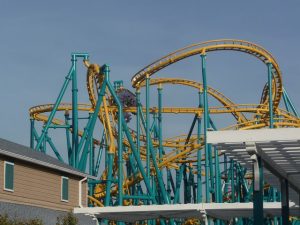 Poltergeist
Six Flags Fiesta
Also found in the Rockville section of Six Flags Fiesta is another thrilling rollercoaster that brings guests on a disorienting and high-speed adventure alongside a spirit. The Poltergeist begins with a thrilling zero to sixty launch in less than three and a half seconds and guests soon find themselves whipping around the track at speeds over sixty miles per hour. Part of the appeal of the roller coaster is the dizzying facts that much of its track wraps around each other, making it a confusing layout that is sure to thrill guests even more!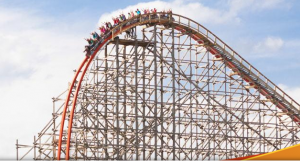 Iron Rattler
Six Flags Fiesta
A unique roller coaster also found in Six Flags Fiesta combines the speed and modern track of a steel roller coaster with the design and aesthetics of a classic wooden coaster. The Iron Rattler in the Crackaxle Canyon area of the park features a top speed of seventy miles per hour, several inversions, and a massive drop at a jaw-dropping eighty one-degree angle. Guests who are looking to enjoy thrills of all kind are sure to find them on the Iron Rattler.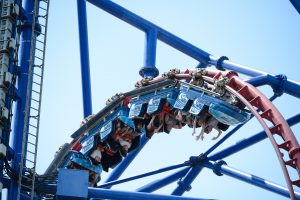 Mr. Freeze: Reverse Blast
Six Flags Over Texas
Texas is also home to a second Six Flags theme parks that is equally popular with guests and also home to plenty of thrilling and amazing roller coasters. Six Flags Over Texas is located in Arlington and is home to the thrilling Mr. Freeze: Reverse Blast which is located in the DC Comics Plaza area of the park. The unique roller coaster begins by having guests move through an ice cream factory that belongs to the villain before being blasted backward from zero to sixty in less than four seconds! Guests can then enjoy a series of inversions, drops, and turns all while enjoying the added thrill of not being able to see where they are going!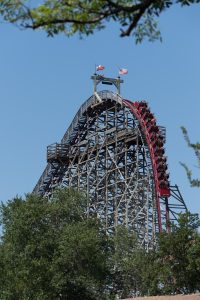 New Texas Giant
Six Flags Over Texas
One of the most beloved roller coasters in all of Texas recently received a substantial refurbishment after many years as a classic. The New Texas Giant is located in Six Flags Over Texas and at the time of its opening in 1990 was the tallest wooden roller coaster in the world. In 2009, the roller coaster reopened with a new steel track that allows trains to reach over sixty miles an hour and enjoy a massive drop at a nearly eighty-degree angle. The New Texas Giant is an old classic that was revamped to pack even more thrills for guests to enjoy!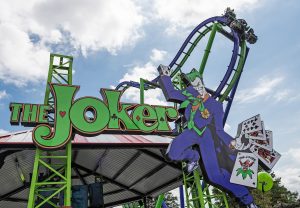 The Joker
Six Flags Over Texas
The Gotham City area of Six Flags Over Texas is home to a thrilling roller coaster that pays tribute to one of Batman's most iconic villains. The Joker lifts guests up a massive ninety-degree hill before sending them on a dizzying journey. Each car is set up with wing seats that extend to the sides of the track and freely spin throughout the experience, ensuring that guests are caught up in the madness that is the Joker. With plenty of flips and inversions, massive hills, and lots of surprises, this is one roller coaster that thrill seekers in Texas simply can't miss.