Texas
Marfa, Texas: The Most Unique Place in the Southwest
It's just as weird and fun as you've heard it is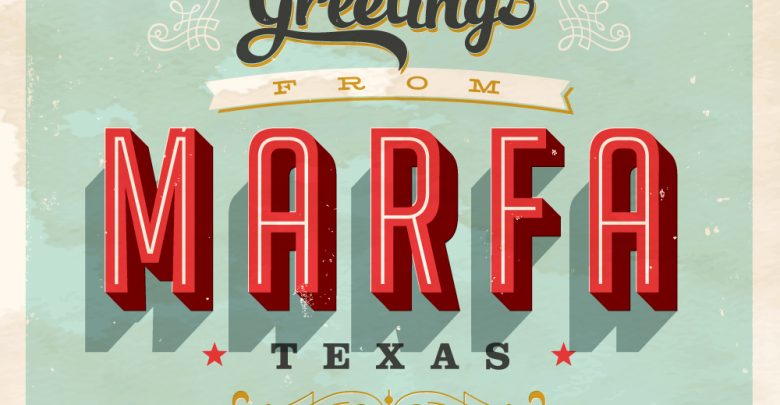 Marfa, Texas is a town in the southwest part of Texas. Its population is around 2000 people, and it is incredibly remote. Specifically, it is in the high desert of the Trans-Pecos area, located between the Davis Mountains and Big Bend National Park. The city was founded in the 1880s as a place for steam trains could stop to replenish water. That said, yes, a train does still run through the middle of the town.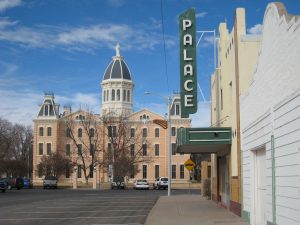 Marfa is an anomaly in that it has garnered some attention nationally. City folk from all over make the trek to Marfa – it's easiest access point is through flying into the El Paso airport. Why do so many visit Marfa? A man named Donald Judd singlehandedly transformed Marfa into a minimalist art destination.
Judd moved to Marfa in the 70s. Nowadays, there are several buildings and businesses named after him. His art is displayed throughout the town, and he managed to bring in further artists, making Marfa a fun spot for people who appreciate learning about different styles of artwork. Even if you're not an art buff, though, you can enjoy Marfa. Through this art revolution in Marfa, the appeal to live in Marfa boomed and businesses sprang up. Because of all this art, you will find delicious restaurants, beautiful hotels, and artisan boutiques.
Below you will find a guide to your trip to Marfa.
1. Places to Stay
El Cosmico
This lodging spot offers the greatest variety in places to stay, and probably feels the most authentically Marfa. Choose from a variety of teepees, trailers, yurts, safari tents, or the upstairs apartment in the Brite Building if you don't want to "glamp" outdoors.
Thunderbird Hotel
This hotel has an old-school motel meets desert meets minimalist art feel. It has a small number of rooms lining a courtyard. Upon stepping inside your room, you are met by sleek concrete floors and all your basic needs. You'll also find a wooden speaker to plug your phone into, a desk, and toiletries in your bathroom.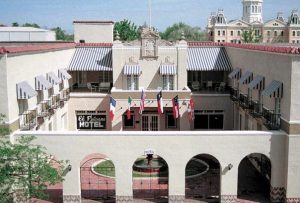 The Hotel Paisano
This hotel has a retro feel to it. The floors are lined with tile that spills onto the front desk as well as a portion of the walls and poles lining the interior of the hotel. A boar's head is mounted in the lobby. The hotel offers free WiFi, a pool, and shopping. This hotel hosted James Dean, Rock Hudson, and Elizabeth Taylor while they filmed Giant in 1956.
2. Places to Eat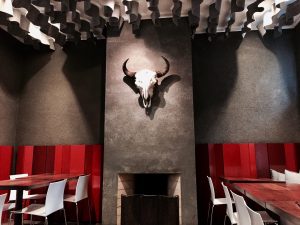 Restaurant Cochineal
For some American fare, Restaurant Cochineal is a great spot. It is located right off the main street and has a cozy indoor dining area as well as a twinkle-lights adorned outdoor dining area. Find food like bouillabaisse, roasted veggies, ceviche, and steak (and more!). The variety makes it kid-friendly as well. You could bring the whole family and everyone could find something to enjoy.
Food Shark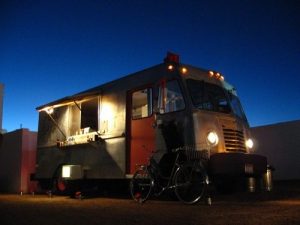 This is a Middle Eastern-style food truck. It is known to be one of the most delicious spots in Marfa. You can get your food to-go or sit in their small outdoor seating area or the blue bus that the owners have transformed into a dining area. Go for lunch then come back for their "Late Night Museum of Electronic Wonders and Grilled Cheese." This happens after 9:30 PM – you can eat their sandwiches and play video games on old TV models!
Frama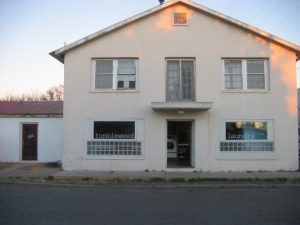 Frama is a cozy coffee shop attached to a laundromat! It's usually a one-man show, so you might have to wait a bit if you order something more complicated than just a coffee (i.e. a latte or mocha) but it's worth the wait. They also always have homemade baked goods like sweet potato muffins and a variety of scones. Enjoy your breakfast in a snug seating area surrounded by framed artwork and locals as well as fellow visitors.
Capri
If you're looking for a fun place for drinks and snacks, Capri is your spot. Choose between the bar, tables, outdoor fire pits, and hammocks for seating. It gives off a more "city" vibe than the other places, modeled to feel like you're enjoying happy hour in your own town.
Jett's Grill
Your typical sit-down Texas meal. Large portions, consistently delicious food, and lots of meat.
3. Places to Explore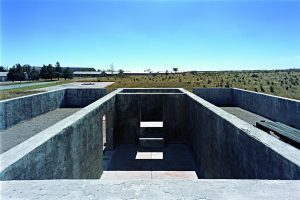 Chinati Foundation
This is a contemporary art museum in the town based upon the ideas of Donald Judd, its founder. Visit the museum and you will find a kilometer of Judd's concrete sculptures outside and 100 aluminum prisms inside two former army base buildings. The current special exhibition is Bridget Riley's wall painting. This piece spans six walls. It is inspired by her previous projects for a hospital in Liverpool and her studies on Ancient Egypt. Other artists featured in this museum include Carl Andre, Ingolfur Arnarsson, John Chamberlain, Dan Flavin, Roni Horn, Robert Irwin, Ilya Kabakov, Richard Long, Claes Oldenburg and Coosje Van Bruggen, David Rabinowitch, and John Wesley. The Foundation also hosts lectures, performances, and other events throughout the year.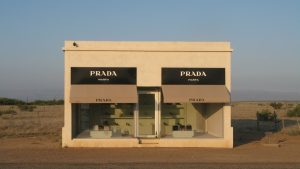 Prada Marfa
Though it may appear to be a Prada store from the outside, it is actually a permanently installed sculpture in Valentine, Texas – 26 miles from Marfa. This installation was created by Elmgreen and Dragset and inaugurated on October 1, 2005. American architects Ronald Rael and Virginia San Fratello helped design the building. The intention by the artists is to never repair the building or the interior so it will slowly fade away into the natural landscape over many years. This is a fun stop to make during your lag time between the day's activities and dinnertime. Though it may seem like a far drive just to look at a building, it is worth it for the sight of such a stark contrast between Prada and the open Texan desert land.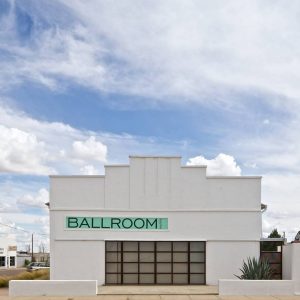 Ballroom Marfa
This is the biggest and most extensive gallery in Marfa. Some artists featured included Dan Colen, Brigid McCaffrey, and Oskar Fischinger. It also hosts live performances, music festivals, film screenings, benefits, and education opportunities. These education opportunities include classes with ecologists and ornithologists as well as camps for kids.
4. Places to Shop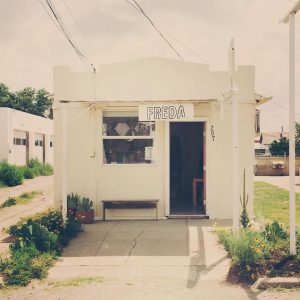 Freda
This is the most popular boutique in Marfa. The shop carries home goods, skincare and makeup items, incense, candles, shoes, hats, bandanas, and jewelry. Most of their items are locally made or handmade if not local. Their products reflect the feel of the town of Marfa – minimalist and eclectic.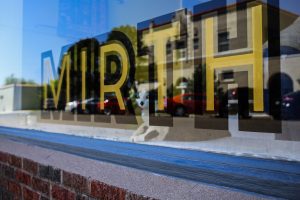 Mirth
Mirth is named for the meaning of the word itself: amusement, especially as expressed in laughter. The intention of the owners was to bring joy to its shoppers. Though not for sale, this shop has an exhibit of skateboards painted by a local teenager. Just for the fun of it. This shop sells minimalistic items as well, but they come from different artisans around the world.
Marfa Book Company
Located in the lobby of Hotel Saint George, this bookstore has books, prints, knickknacks, and Marfa souvenirs. This would be a great spot to find a unique coffee table book. In Marfa fashion, they have a lot of large-format books covering a range of minimalist artists and their work. The bookstore also hosts events through the year, including talks and readings by local artists and writers in residence.